Multi Sensors Driven Inspection System
Featured Product from Ofil Ltd.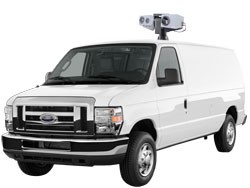 Ranger a multi sensors inspection system mounted on a vehicle to scan overhead T&D lines and collect multiple information items in a single drive. Improve maintenance practice by consolidating inspection technologies into one platform. Sensors include UV corona camera, HD camera, IR etc that complement each other, and their findings provide a comprehensive view of the apparatuses. Ranger provides pinpointed display of corona hot spots and imperfections.
A full featured, high-speed pan/tilt unit is controlled and operated remotely from within the vehicle using a joystick with pre-set positions. A heavy duty notebook consolidates control over all imagers.