Cost Savings assessing corona in substations
Featured Product from OFIL Systems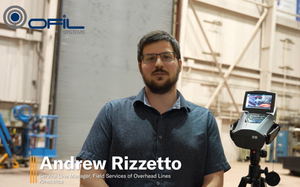 Listen to Andrew Rizzetto, Service Line Manager, Field Services of Overhead Lines at Kinectrics HV lab talk about how assessing corona #partialdischarge in electrical substations leads to cost savings and extends the life of overhead lines. He talks about the extensive testing he does of line hardware, structures, insulators, switches, and connectors using a daylight corona camera, such as the OFIL Systems #Luminar.
"Corona on an overhead transmission line can cause power loss, increased audible noise, electromagnetic interference, installation failure, equipment failure, and environmental concerns."
Join the growing community of industry leaders who are transforming the way Corona #PD detection is conducted. Stay ahead of the curve, enhance your testing capabilities, and protect the health of your #electricalinfrastructure with our game-changing UV cameras.