DC DIN-Rail Voltage Transducer
Featured Product from Ohio Semitronics, Inc.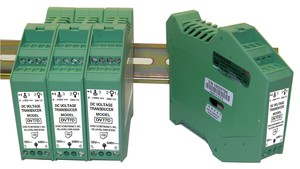 The DVT7 is a dc voltage transducer with user-selectable input ranges. DIP switch-selectable ranges extend from 50mV to 600V. The output is proportional to a zero-to-Full Scale (F.S.) input for the selected range. Packaging is compact, easy-to-install, with a DIN rail-mount enclosure. Notable features for this device include: DC voltage measurement, a selection of output types (0-±10v, 4-20mA, 0-±5V), plus the input, output, and instrument power are electrically isolated.
High Voltage Input
50, 100, 150, 250, 500, 600Vdc

1000V option is available when used with DVT7-EXT extension module
Low-Voltage Input
Millivolt Input
50, 100, 150, 250, 500mVdc
Applications

Shunt isolation
Solar string voltage monitoring
Battery ground monitoring
DC motor drive overvoltage or undervoltage condition monitoring
Have a question? Start a chat!