Measure Low Leakage Currents 0-5mA to 0-100mA
Featured Product from Ohio Semitronics, Inc.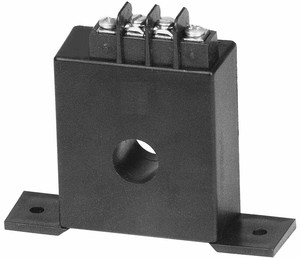 Application
A laboratory building at a prominent university needed a ground fault monitoring system to protect the many pieces of sensitive electronic equipment. The original design was intended to alarm at elevated levels of ground fault that would generate disruptive magnetic fields.The ability to monitor the low levels was not incorporated in the design.
When the installed system began to fail, with hard to replace components, they sought to find a solution that would monitor currents above ±0.2mA as well as alarm. Ohio Semitronics provided a current sensor that would accurately measure 0-5mA to insure the scientists have a "quiet ground".
CTCR-mAxxxE2
In result of low current measurement requests, OSI engineers' have modified the CTCR series to address currents from 0-5 to 0-100mA with a 4-20mAdc loop-powered output. The new model number is CTCR-mAxxxE2.
The accuracy of the modified CTCR is ±0.25% with a 25-400Hz frequency range. The response time, to 90%, for the modified unit is 250ms.
View the CTCR-mAxxxE2 spec sheet
Questions about the CTCR and low current measurements
call OSI at 614-777-1005
or chat with us on our website, www.OhioSemitronics.com