Power Display Meter
Featured Product from Ohio Semitronics, Inc.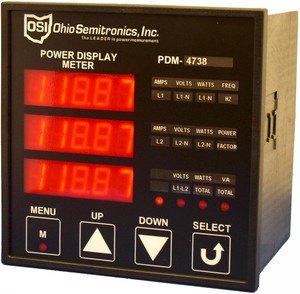 The Model PDM power display meter measures and displays voltage, current, power and energy parameters for single-phase or three-phase systems. Voltages up to 600Vac and currents up to 5Aac are directly connected to the unit. Current Transformers are available in both solid-core (best accuracy) and split-core (most flexible) types to extend the current measurement range. Local display is provided by three LED displays. Displayable parameters are grouped into four sets of three parameters each with the groups selectable by front panel push-button. Remote display modules may be added as required to provide dedicated display of up to eighteen different parameters. Analog outputs are provided by adding one or more D/A-4772 converters. Each of these converters provides up to eight output signals which may be assigned to any eight parameters. Serial communications are provided through either an RS-232C, RS-422, RS-485 or USB interface, using a simple ASCII protocol. (USB is through an external RS-232C-to-USB adapter.)
Start a chat with our engineers for a rapid response!