Ruggedized DC Current Sensing
Featured Product from Ohio Semitronics, Inc.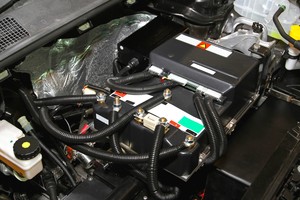 CTU-XXXX Ruggedized DC Current Sensing
Several electric car testing facilities have engaged with OSI to develop a ruggedly designed under the hood sensor to measure high current draw from a vehicle battery during acceleration.
The CTU-XXXX series with ranges from 0-50Adc to 0-2000Adc is easily clamped on and off a cable, has a1 inch window, durable metal latch mechanisms on each side, and a metal temperature compliant connector for the cable.
The sensor can be powered by a 12Vdc battery and provides a ±5Vdc output to indicate forward or reverse current flow by measuring the flux field generated through the vehicles battery cable. These specifications are not set in stone, our team would be happy to change the output or instrument power specifications to meet your exact application needs.
With a wide range temperature rating, -40°C to 85°C, the CTU-XXXX sensor series can be installed anywhere DC current indication is needed (not just electrical vehicle test applications) such as Solar PVs, Inverters, Rectifiers or anywhere that DC current is present.
Ohio Semitronics can apply an ISO 17025 or NIST certification to each sensor if required.

Need an even higher temperature rating or a different instrument power? Ohio Semitronics has already developed special designs in these areas. All you have to do is ask.
View the CTU-XXXX Spec Sheet here
Click here for free access to the Discovery Guide
What Does OSI Do?
Ohio Semitronics, Inc. develops and delivers power measurement technologies, transducers, and current sensors, from its plant in Hilliard, Ohio. OSI's range of measurement technologies perform in a variety of demanding environments such as Petroleum and Petrochemical, Electric Utility, Solar and Wind, Test and Measurement, Automation and Control, and Naval Surface and Subsurface applications.