BA Series High Power Aluminum Cased Wirewound
Featured Product from Ohmite Manufacturing Co.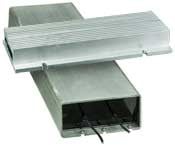 Multiple Wattages up to 1KW
Scalable, Custom Lengths Available
Custom Terminations
Thermal Cutoff Available
Heatsinkable Chassis Mountable
Ohmite has been the leading provider of resistive products for high current, high voltage, and high energy applications for over 80 years. The company's full complement of resistor construction includes wirewound, wire element, thick film, and ceramic composition.