HCLB Series WireWound High Current Load Bank
Featured Product from Ohmite Manufacturing Co.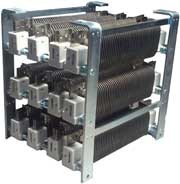 Oval winding for compact design
Continuous ratings from 8KW to 24KW
Current handing up to 285 amps
Over 30 resistance values available
Built for rugged environments
The choice when conditions demand top-notch performance, these resistor load banks are commonly used for dynamic braking on Transit applications or where high current handling and wattage are required. Ohmite's unique Oval Edgewound design allows for more wattage in smaller a package. Choose from four bank wattages with up to thirtyone current ratings per bank. Built to perform in rugged environments, Ohmite load banks feature corrosion resistant stainless steel insulator supports, solid nickel terminals, and special electroless nickel-plated solid copper terminal supports. The resistance element is made of a stainless steel resistance alloy. Terminals are welded or silver brazed to the oval, spiral edgewound resistance element. Toothed ceramic insulators isolate the resistance element from the center support. Ceramic end bushings insulate the center support from the mountings.