Single Phase Filters - Chassis Mount Filters
Featured Product from Ohmite Manufacturing Co.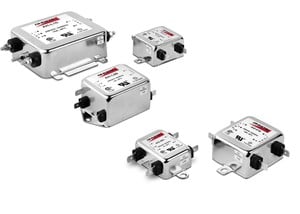 Single-Phase Electromagnetic Interference (EMI) Filters are general-purpose filters designed to suppress undesirable electrical disturbances in power lines. Single-Phase EMI Filters limit the amplitude of interfering voltages on AC power lines and prevent them from propagating into or out of the filtered equipment. Ohmite filters using a chassis mount design provide a great connection to earth by being produced in metal cases.These chassis mount filters provide the space available for multiple circuits and provide great protection. Ohmite offers multiple filter series designed for single phase circuits with a current rating up to 100 amps.