Auto-Fill Spray Dispenser
Product Announcement from Oil-Rite Corp.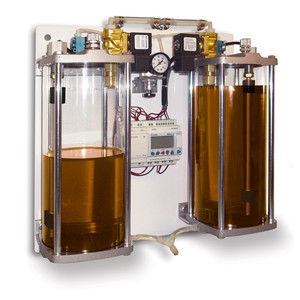 A standard spray dispenser uses a pressurized vessel to spray a lubricant or industrial fluid. It needs to be shut off periodically to be re-filled. The auto-fill spray dispenser utilizes alternating reservoirs in a controlled sequence to attain an "always on" status.
Spray dispensers are used to apply liquid to conveyors, chain drives, bull gears, trolley wheel bearings, and wire rope. Many of these applications are intended to run non-stop. When the liquid is consumed from a standard dispenser, the operation either runs temporarily without fluid or is shut down while an attendant refills the reservoir.
The auto-fill spray dispenser is a fully automated solution that provides a constant source of pressurized fluid. Two reservoirs are used together. During the time that one reservoir is pressurized and dispensing, the other reservoir is depressurized and refilled. Level switches in both reservoirs signal when reservoirs require refilling as well as when they have reached capacity. Solenoids manage the availability of pressurized air and fluid. A programmable logic control (PLC) controls the function of the unit.
The auto-fill spray dispenser can eliminate the costs of an attendant and periodic shutdowns. It avoids the need for oversized reservoirs to maximize the run time. The auto-fill spray dispenser utilizes gallon reservoirs, which provide adequate refill time even under heavy spray conditions.
The unit is plumbed, wired, and programmed within a neat package and a compact footprint. The solenoids, 24VDC power supply, and PLC are housed in an enclosure. Installation requires connection to pressurized air, a fluid source, and standard electrical current. The unit is configured efficiently, so that connections to each individual component are not necessary. One or a number of spray valves can be connected to the single outlet in the same manner as a standard dispenser.
Visit Oil-Rite's online catalog for more information on the Auto-Fill Spray Dispenser.
Oil-Rite has been designing and manufacturing lubrication equipment in its U.S. plant since 1933.
---