Circulating Oil Systems
Featured Product from Oil-Rite Corp.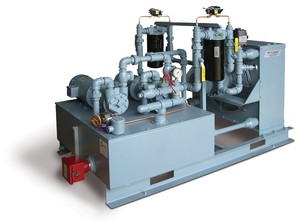 Circulating Oil Systems provide continuous flow of liquid to bearings, gearboxes, and blowers. They circulate various liquids such as oils, synthetic lubricants, ethylene glycol, and hydraulic oils. Circulating Oil Systems are commonly used for heavily loaded bearings operating at high speeds and temperatures. They are suitable for use in extremely dirty and corrosive environments.
Oil-Rite tailors Circulating Oil Systems to customer specifications. The systems can be equipped with tanks as small as 5 gallons or larger than 100 gallons. Common features include the motor, pump, piping, filtration system, pressure switch, relief valve, flow switch, check valve, thermometer, low level switch, and various gages. Systems can also be equipped with heater, heat exchanger, mixer, back up motor, scavenge pump, and a variety of other components. Oil-Rite works closely with the customer to provide a system that meets the customer's application requirements.
All systems are engineered, designed, manufactured and fully tested at Oil-Rite. Oil-Rite has been designing, building, and supplying to corporations throughout the world for over 80 years.
To view more information on circulating oil systems and over (60) samples with detailed item information, click here.