Hydracision Multi-Point Lubrication
Featured Product from Oil-Rite Corp.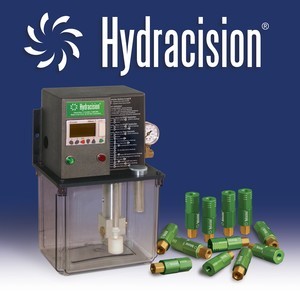 Patented Technology
Hydracision® distributes lubricant to many separate points – as few as 12 and as many as hundreds. It combines hydraulic movement of fluid with the precision of positive displacement injection. Hydracision® supplies the user with options but doesn't overwhelm with calculations, complex components, or pages of schematics. It's simple to configure and use.
Programmable Cycle
Injectors deliver lubricant when the pressure peaks. The injectors reset as the pressure is relieved during a timed cycle. The user can schedule the interval at which lubricant is dispensed using the self-contained electronic control.
Injectors
Hydracision® can be supplied with up to hundreds of injectors, each with a high, medium, or low dispensing volume (0.20 ml, 0.14 ml, or 0.08 ml). The amounts do not have to be the same for each injector.
Single Line Delivery
Hydracision® injectors operate under pressure generated by the central housing, yet each injector functions independently of the others. Disrupted output at any one lubrication point has no affect on the other injectors. Dispensing is consistent and reliable.
Streamlined Package
The reservoir housing contains a gear pump motor, which pressurizes the outlet for uniform fluid distribution. A PLC with a programmable display allows selection of lubrication cycles. A low level switch prevents operation when the oil supply is depleted. The pressure gauge at the outlet provides visual confirmation of the hydraulic cycle. Fill the reservoir using the swing-away cap with a removable strainer to help maintain liquid quality.
Adaptable
Hydracision® is a reliable, efficient lubrication method for printing presses, injection molding, packaging machinery, punching presses, assembly systems, canning operations, conveyors, manufacturing processes, and machine tools.
Hydracision® is for use with 10 to 80 weight oil and with many lubrication points—typically 12 or more. It is simple to install, easy to understand, and requires no in depth programming knowledge to operate. Hydracision® was designed to meet users' requirements to be simple, precise, reliable, and affordable.
Oil-Rite Corporation has been designing and manufacturing lubrication equipment in its U.S. plant since 1933. For more information, contact Technical Sales at 920-682-6173, or visit www.oilrite.com to view photos and detailed information on over 14,000 items.
Oil Rite serves the following industries:
Industrial and Commercial Machinery - Conveyors, Assembly Equipment, Ovens, Etc.
Energy - Electric, Gas, and Nuclear Facilities and Transport Stations
Food and Beverage Preparation and Packaging
Off-Road Equipment - Construction, Agriculture, and Forestry
Aerospace and Defense
Material Handling, Automation, and Robotics
Mining, Steel Mills, Material Processing, and Recycling Operations