Liquid Level in Tank Illuminated By LED
Featured Product from Oil-Rite Corp.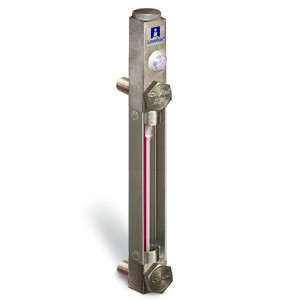 Levelux is an innovative way to monitor the liquid level within metal tanks and any reservoir that is not transparent. The sight illuminates when it senses nearby motion. A single LED is powered by button cell batteries, so no wiring is needed.
Liquid level gages attach to the outside of the tank through two holes. The fluid transfers from the tank to the sight glass and displays at the same height. The gage is made from steel and available in centerline distances of 5, 6, 7, and 12 inches. The standard connection is a 1/2" - 20 bolt. NPT adapters, dial thermometer, and shutoffs are other available features.
Levelux is a proprietary design. It is designed and manufactured in the USA.