Motor Operated PurgeX for Liquid
Featured Product from Oil-Rite Corp.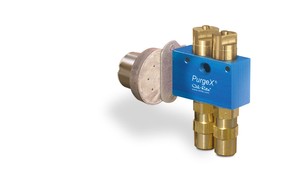 Lubricant is typically most effective when applied in very small amounts over frequent intervals. There are disadvantages to using large doses of lubricant in "lump sum" single applications. While the machinery may be adequately lubricated at first, the lubricant will dissipate with time and the machinery is likely to be "starved" of lubricant before the next scheduled maintenance. In addition, large-dose lubrication often creates an excess of fluid that may create slippery floors, oily surfaces that attract dirt, contaminated product, and unnecessary exposure to the environment through rags, mops, and drains.
Oil-Rite Corporation designs and manufactures lubrication equipment to provide precise oil or grease delivery. PurgeX has the ability to deliver very small amounts of lubricant with each cycle. Precise volumetric delivery is achieved with the positive displacement design. There is no "after drip," which makes PurgeX a very effective lubrication solution where product contamination is a concern.
Motorized PurgeX® is ideal for applications where compressed air is not available or where direct interface to machine controls is desired. It is operated by an electric motor powered by 120V/60Hz (other voltages and frequencies are available upon request). Lubrication cycles can be easily synchronized with machine operation. The volume of output is adjustable between 0 to .009 cu. in.
Each compact unit is available with up to 4 feeds. Each pump in the manifold operates as an individual pump with a separate adjustment for lubricant delivery per cycle.
The self-priming PurgeX will fill lines with lubricant automatically. A vacuum pulls liquid into the PurgeX chamber with each cycle. Any entrapped air and other impurities are automatically purged from the system when the piston slightly over-travels the pump chamber with each cycle. The result is the ability to reliably deliver an exact amount of lubricant.
For photos and more information on Oil-Rite's wide selection of PurgeX products, visit our online product catalog here.
Oil-Rite Corporation has been designing and manufacturing lubrication equipment in its U.S. plant since 1933. For more information, contact Technical Sales at 920-682-6173, or visit www.oilrite.com to view photos and detailed information on over 14,000 items.
Oil Rite serves the following industries:
Industrial and Commercial Machinery - Conveyors, Assembly Equipment, Ovens, Etc.
Energy - Electric, Gas, and Nuclear Facilities and Transport Stations
Food and Beverage Preparation and Packaging
Off-Road Equipment - Construction, Agriculture, and Forestry
Aerospace and Defense
Material Handling, Automation, and Robotics
Mining, Steel Mills, Material Processing, and Recycling Operations