Multi-Point Precision Grease Lubrication
Featured Product from Oil-Rite Corp.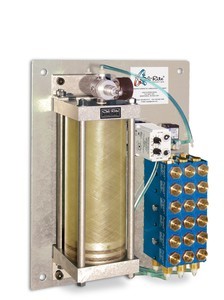 PurgeX Multi-Point Precision Grease Lubrication Systems are reliable, economical, and easy to install. These systems feature up to 42 adjustable, patented PurgeX pumps with a 3-way air solenoid, 1/2 gallon pressurized grease reservoir and programmable cycle timer. The complete lubrication system is mounted on a galvanized steel plate. The system requires only compressed air, electricity, and lubricant to begin operation.
Self-priming PurgeX pumps are designed to provide optimal lubrication by distributing very small amounts of lubricant over steady intervals. Each PurgeX pump has a grease delivery per cycle adjustable between 0 to .012 cubic inches, or roughly the area occupied by a pencil eraser. The output of each pump can be independently and accurately adjusted by using the external knob located on each pump. The cycle timer can be programmed to lubricate from every .6 seconds to every 24 hours. Greater volumes of lubricant can be applied by increasing the frequency of the cycle.
With PurgeX systems, there is no need for high pressure lines, a central gear pump or complex controls. The 3-way air solenoid requires only one low pressure air connection of 40-120 PSI to operate the entire lubrication system. The 9 to 1 piston ratio inside each pump converts the low pressure shop air into as much as 1,080 PSI at each outlet.
This PurgeX Multi-Point Precision Grease Lubrication System is easy to install. Simply secure the mounting plate, connect compressed air, supply power, and route tubing from the outlets to the lubrication points.
PurgeX is a patented product with three decades of proven effectiveness in diverse industrial and mobile applications. View our selection of PurgeX Pumps.
Oil-Rite Corporation has been designing and manufacturing lubrication equipment in its U.S. plant since 1933. For more information, contact Technical Sales at 920-682-6173, or visit www.oilrite.com to view photos and detailed information on over 14,000 items.
Oil Rite serves the following industries:
Industrial and Commercial Machinery - Conveyors, Assembly Equipment, Ovens, Etc.
Energy - Electric, Gas, and Nuclear Facilities and Transport Stations
Food and Beverage Preparation and Packaging
Off-Road Equipment - Construction, Agriculture, and Forestry
Aerospace and Defense
Material Handling, Automation, and Robotics
Mining, Steel Mills, Material Processing, and Recycling Operations