Oil-Rite Small Sight Feed Valves
Product Announcement from Oil-Rite Corp.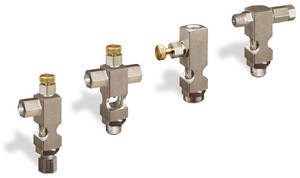 Small Sight Feed Valves allow visual observation of the liquid stream, with the volume of flow controlled by an adjustable precision control needle valve. These units are principally used on gravity or pressure lubricating systems for bearing lubrication on machinery. Their use can be extended to any application requiring adjustable, visible flow control.
Oil-Rite Small Sight Feed Valves withstand up to 225° F and 125 PSI inlet to orifice pressure with vented sight chambers. They feature a steel plated valve body and needle assembly, glass sights, and a 1/16" diameter port. The valves are 3" or less in height.
These valves are available with vented or solid gasket construction. Vented sight chambers ensure proper flow and prevent airlock. Solid Gasket designs are available for sealed pressure applications. The needle adjustment is available with handwheel or tamperproof construction.
All Small Sight Feed Valves have the outlet located on the bottom of the unit. They are available in four different patterns: Straight, Cross, Angle, and Inverted Angle. The patterns refer to the positioning of the inlet and needle valve adjustment on the valve. Each valve style has multiple selections of inlet and outlet threads to accomodate various applications. The valves are available with pipe mounting or remote mounting threads.
Each item can be viewed on Oil-Rite's updated website with an exact part description and photo.
Oil-Rite also manufactures larger Heavy Duty Sight Feed Valves in similar configurations, as well as Multiple Sight Feed Valves, Universal Sight Feed Valves and a variety of other Oil Flow Control Valves. Oil-Rite is a U.S. manufacturer of lubrication equipment.
---