Oil-Rite patented aluminum liquid level gages
Featured Product from Oil-Rite Corp.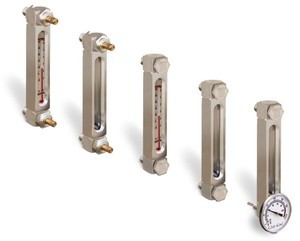 Product Information
Oil-Rite patented aluminum liquid level gages have a rugged milled construction with a unique staked end body design. This design minimizes parts and optimizes production capabilities, resulting in a high quality, competitively priced product.
Aluminum liquid level gages can be used to view oil levels in hydraulic reservoirs, gearboxes, bearing housings, crankcases, transformers and machinery oil reservoirs. Their use can be extended to many applications where an accurate, easy to read oil level indicator is required.
Fluid enters through a cross hole in the hollow lower bolt and is vented back into the tank through the top bolt. The length between the center of the two bolts is referred to as the centerline. Gages are available with centerlines from 3" to 60". Mounting options include 1/2"-20 bolts (with or without back mounting nuts), metric thread bolts, and with adapters in 1/4" NPT, 3/8" NPT, 1/2" NPT and 3/4" NPT.
Design Options
These rust resistance liquid level gages are available in a variety of styles.
An optional easy to read dial thermometer or card thermometer allows viewing of liquid temperature.
These gages are also available in a side viewing orientation that allows viewing at a 90° angle from the tank, rather than the typical front viewing design. This is practical for applications where the gage may be mounted to the side of a tank rather than the front.
Optional shut-off stems can be adjusted to stop fluid flow into the gage. This can be used as a precautionary measure if breakage is concerned. The gage can be removed and replaced without draining the tank.
Learn More
Milled aluminum gages are among the most affordably priced liquid level gages. To view aluminum liquid level gages in Oil-Rite's detailed online catalog, click here.
To view all liquid level gage options, click here.
Oil-Rite Corporation has been designing and manufacturing lubrication equipment in its U.S. plant since 1933. For more information, contact Technical Sales at 920-682-6173, or visit www.oilrite.com to view photos and detailed information on over 14,000 items.
Oil Rite serves the following industries:
Industrial and Commercial Machinery - Conveyors, Assembly Equipment, Ovens, Etc.
Energy - Electric, Gas, and Nuclear Facilities and Transport Stations
Food and Beverage Preparation and Packaging
Off-Road Equipment - Construction, Agriculture, and Forestry
Aerospace and Defense
Material Handling, Automation, and Robotics
Mining, Steel Mills, Material Processing, and Recycling Operations