PurgeX® Air Operated, Liquid or Grease Delivery
Product Announcement from Oil-Rite Corp.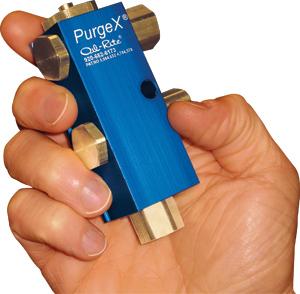 Although compact and inexpensive, PurgeX is a mainstay for machinery lubrication and all types of fluid dispensing in assembly, stamping, molding, and welding operations. With each application of shop air, PurgeX dispenses oil or grease in an adjustable volume range of .012 cubic inches (about the area of a pencil eraser) to a nearly undetectable amount. It's been demonstrated to perform consistently in laboratory tests of over 360 million cycles.
Requiring low pressure to operate (40 – 120 psi), the output pressure is up to 9 times that supplied. The advantages of the positive displacement created by PurgeX include being accurate, repeatable, self-priming, and the ability to purge entrapped air and impurities.
PurgeX is used with cutting and cooling oils, food additive dispensing, applying adhesives/inks/chemicals/dyes in production lines, applying punching and stamping oils, lubricating chains for oven conveyors, and hundreds of applications that require accurate dispensing.
There is an environmental and monetary cost to waste caused by imprecise or excessive fluid application. PurgeX has been helping businesses responsibly manage resources for three decades.
---