PurgeX Circulating Oil Systems
Featured Product from Oil-Rite Corp.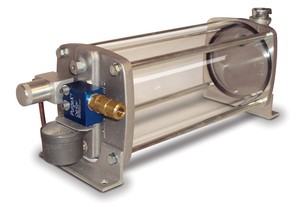 PurgeX Circulating Oil Systems are easy to use, reliable and compact. They provide the means for dripping oil over gears, bearings, crankshafts, etc, with the intent of collecting and re-using the fluid. These units are ideal for small volume applications where excessive heat build-up is not a concern. They can be used with bearings, motors, fans, rolling mills, presses, pumps, compressors, gears, generators and a variety of other applications.
PurgeX Circulating Oil Systems are operated with 1 to 4 motor driven PurgeX pumps. The pumps cycle small, precise amounts of lubricant at frequent intervals. The fluid is recovered by means of gravity and is subject to passive heat loss as it circulates back to the reservoir.
A clear and durable 1 gallon acrylic reservoir collects and circulates fluid. The hinge lid cap makes filling the reservoir quick and simple. A 40 micron filter removes impurities from the fluid before it cycles to the lube point. The filter is easily accessible for cleaning or replacement.
PurgeX Circulating Oil Systems are easy to install. Route tubing to the lube point and direct fluid from the collection spot back to the reservoir's inlet (via gravity). Activate the mini circulating oil system with a standard power supply. The unit operates continuously while powered.
For more information, browse PurgeX Circulating Oil Systems in our clear and detailed online product catalog.
Oil-Rite Corporation has been designing and manufacturing lubrication equipment in its U.S. plant since 1933. For more information, contact Technical Sales at 920-682-6173, or visit www.oilrite.com to view photos and detailed information on over 14,000 items.
Oil Rite serves the following industries:
Industrial and Commercial Machinery - Conveyors, Assembly Equipment, Ovens, Etc.
Energy - Electric, Gas, and Nuclear Facilities and Transport Stations
Food and Beverage Preparation and Packaging
Off-Road Equipment - Construction, Agriculture, and Forestry
Aerospace and Defense
Material Handling, Automation, and Robotics
Mining, Steel Mills, Material Processing, and Recycling Operations