PurgeX "Quick Pack" Complete Lubrication Systems
Featured Product from Oil-Rite Corp.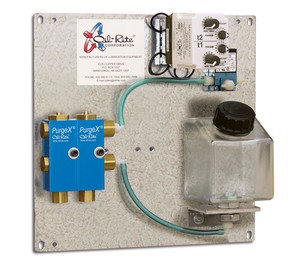 PurgeX "Quick Pack" Complete Lubrication Systems are reliable, economical, compact and easy to install. Quick Packs feature 1 or more patented PurgeX pumps with a 3-way solenoid, easy to fill polycarbonate reservoir, and programmable cycle timer. The complete lubrication system is secured on a galvanized steel mounting plate that will fit into a standard 12" X 12" X 6" electrical enclosure. The system requires only compressed air, electricity, and lubricant to begin operation.
Learn more about the available packages using Oil-Rites extensive online catalog:
View Quick Packs for Oil Dispensing
View Quick Packs for Grease Dispensing
View All Complete PurgeX Lubrication Packages
The Quick Pack® units are particularly well suited for the manufacturing, packaging, food, printing, chemical, marine, petroleum, and textile industries. Suggested applications include chains, cables, cams, bearings, conveyors, and machine tools. The individually adjustable pumps on these systems provide precision metering of liquid or grease. By dispensing an exact amount of fluid every time, the units reduce contamination while reliably delivering fluid during every cycle.
The Quick Pack® units are available in both air and motor operated systems for liquid of grease in banks of 2 to 36 connected pumps. Controlled by a repeat cycle timer, injector pumps immediately deliver the liquid or grease from a central reservoir to the point of application. Each injector pump can precisely deliver an output range from .000 to .012 cubic inches per cycle that can be precisely delivered. The pumps are also designed to purge air or other impurities, with the pumps not losing their prime if a low level occurs or air is introduced.
The versatile units resist rust and corrosion. The pump bodies are aluminum with an anodized blue finish, and the system is supplied on a galvanized steel mounting plate that easily fits inside of commercially available enclosures. The quick filling reservoirs are made from durable polycarbonate or fiberglass to allow for visual inspection, and are available in a variety of sizes. The systems are available with Buna-N or Viton® seals to resist a wide variety of chemicals. The pumps can operate in temperatures from -32ºF to 120ºF, with liquid viscosities from 1 to 20,000 SSU and grease viscosities from NLGI #00 to #2. Air-operated systems are provided with a 3-way pneumatic solenoid. Motor driven systems come complete with an integral motor. The standard systems are supplied as 120VAC/60Hz. Other sealing materials, voltages and frequencies are available upon request.
PurgeX® pumps have achieved over 360 million cycles in lab tests without appreciable wear. This reliability has been combined with the unique capabilities and economical price of the Quick Pack® to make it ideal for an entire facility or a single application.
For applications requiring larger output, more lubrication points, or where compressed air is not available, view Hydracision.
Oil-Rite Corporation has been designing and manufacturing lubrication equipment in its U.S. plant since 1933. For more information, contact Technical Sales at 920-682-6173, or visit www.oilrite.com to view photos and detailed information on over 14,000 items.
Oil Rite serves the following industries:
Industrial and Commercial Machinery - Conveyors, Assembly Equipment, Ovens, Etc.
Energy - Electric, Gas, and Nuclear Facilities and Transport Stations
Food and Beverage Preparation and Packaging
Off-Road Equipment - Construction, Agriculture, and Forestry
Aerospace and Defense
Material Handling, Automation, and Robotics
Mining, Steel Mills, Material Processing, and Recycling Operations