PurgeX with Integral Grease Reservoir
Product Announcement from Oil-Rite Corp.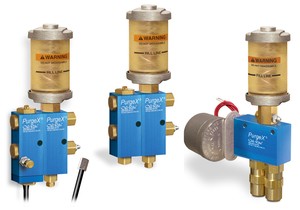 Reliable, economical PurgeX pumps are available with a convenient integral grease reservoir connected directly to the pump. PurgeX is a self-priming precision lubrication system. It has the ability to deliver very small amounts of lubricant with each cycle and can be rapidly cycled for greater volumes. These pumps have been demonstrated to perform consistently in laboratory tests of over 360 million cycles.
For applications with multiple feed points, internal Threadapter connections provide common air and lubricant lines for all PurgeX pumps in the same manifold. Each PurgeX in a manifold operates as an individual pump with a separate adjustment for lubricant delivery per cycle. The output of a standard pump is adjustable from 0 to .012 cubic inches per cycle, or roughly the area occupied by a pencil eraser.
Air Operated PurgeX require only one low air pressure connection of 40 to 120 PSI. The 9:1 piston ratio inside each pump converts the relatively low inlet pressure into as much as 1,080 PSI at the outlet.
Motor Operated PurgeX are ideal for applications where compressed air is not available. Lubrication cycles can be easily synchronized with machine operation.
Spray Dispensing PurgeX feature an integral coaxial spray nozzle that is flexible yet rigid enough to allow for precise positioning. Lubricant and air mix at the nozzle tip to disperse grease in a round pattern. Each pump has a separate air spray adjustment stem. No additional air supply or separate air regulator is required, making PurgeX a highly efficient spray method. There is even an Ultra-Micro Output Spray Dispensing PurgeX for applications requiring extremely fine amounts of lubricant.
To view PurgeX pumps specifically for use with grease, click here. To view Oil-Rite's complete online PurgeX product catalog, click here.
Oil-Rite's detailed online product catalog features individual pictures and detailed descriptions of thousands of items manufactured in the United States.
---