PurgeX
Product Announcement from Oil-Rite Corp.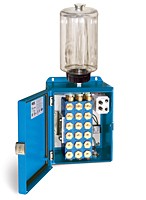 PurgeX "Ready to Go" Lubrication Systems are reliable, economical, and easy to install. These systems feature anywhere from 1 to 18 patented PurgeX pumps with a 3-way air solenoid, easy-to-fill polycarbonate reservoir, and programmable cycle timer.
The lubrication system is housed in a compact hinged-door Nema 12 enclosure, with an externally mounted reservoir allowing visual observation of the liquid level. The system requires only compressed air, electricity, and lubricant to begin operation.
PurgeX pumps provide precise liquid delivery, reducing excess environmental contaminants as well as costs and hazards associated with wasted fluid.
Oil-Rite has been designing and manufacturing lubrication equipment in its U.S. plant since 1933.
Visit Oil-Rite's online product catalog for detailed information on PurgeX systems.
---