Window Sights in Stainless Steel
Featured Product from Oil-Rite Corp.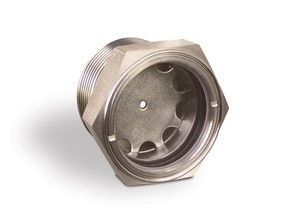 Window Sights allow visual observation of liquid levels and their condition. They can be used to display fluid motion or mechanical movements, or to view and perform tests in a safe enclosure. Specific uses include fluid sighting on hydraulic tanks, pressure vessels, reservoirs, packaged power equipment, hydraulic lines, and dipping. Their use can be applied to any application where oil or fluid inspection is essential. Two or more sights can be mounted so as to indicate high, low, or in-between levels.
Window sights are available with straight or tapered threads. Tapered (NPT) window sights may be mounted into any corresponding pipe thread. Straight threaded window sights can be screwed into tapped holes or used with mounting nuts for drilled holes.
Durable 303 stainless steel construction is corrosion resistant. It maintains a clean appearance and minimizes unintending bonding to mounting surfaces. An optional stainless steel reflector enhances liquid level visibility.
Window sights are also available in plated steel and in plated steel with fused glass viewing port. Click here to view Oil-Rite's selection of window sights in the online catalog.
Click here to view other products available in stainless steel.
Oil-Rite has been a leader in the design and manufacture of industrial lubrication equipment since 1933. The company invented PurgeX® positive displacement pumps to dispense small amounts of fluid with absolute precision and reliability. Hydracision® multi-point lubrication packages simply and accurately reaches up to hundreds of lube points. Other product lines include gravity lubricators, liquid level gages, constant level lubricators, flow sights, vent plugs, spray systems, and custom circulating oil systems. Oil-Rite is an American manufacturer.
Oil-Rite Corporation has been designing and manufacturing lubrication equipment in its U.S. plant since 1933. For more information, contact Technical Sales at 920-682-6173, or visit www.oilrite.com to view photos and detailed information on over 14,000 items.
Oil Rite serves the following industries:
Industrial and Commercial Machinery - Conveyors, Assembly Equipment, Ovens, Etc.
Energy - Electric, Gas, and Nuclear Facilities and Transport Stations
Food and Beverage Preparation and Packaging
Off-Road Equipment - Construction, Agriculture, and Forestry
Aerospace and Defense
Material Handling, Automation, and Robotics
Mining, Steel Mills, Material Processing, and Recycling Operations