OLYMPUS CIX100 Cleanliness Inspection System
Featured Product from Evident Scientific/Olympus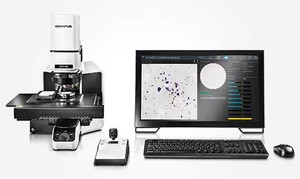 The OLYMPUS CIX100 inspection system is a dedicated, turnkey solution for manufactures who maintain the highest quality standards for the cleanliness of manufactured components. Quickly acquire, process, and document technical cleanliness inspection data to comply with company and international standards. The system's intuitive software guides users through each step of the process so even novice operators can acquire cleanliness data quickly and easily.
OLYMPUS CIX100 Turnkey Technical Cleanliness Inspection System: Simplify Your Technical Cleanliness
The cleanliness of components and parts is at the center of the manufacturing process. Meeting high standards for counting, analyzing, and classifying the often micron-sized contaminant and foreign particles is important for all processes: development, manufacturing, production, and quality control of the final product. International and national directives describe the methods and documentation requirements for determining particle contamination on essential machined parts since these particles directly impact the lifespan of parts and components. Previously, the mass of residue particles was used to characterize the residue. The standards in use today demand more detailed information about the nature of the contamination such as the number of particles, particle size distribution, and particle characteristic.
The OLYMPUS CIX100 Cleanliness Inspection System is designed to meet the cleanliness requirements of modern industry and national and international directives.
Seamlessly integrated hardware and software result in a durable, high-throughput system that delivers reliable and accurate data.
Easy Setup for True Turnkey Functionality
Accurate repeatability and best secure by invariant system setup
Excellent optical performance and reproducible imaging conditions
Proven durability by reproducible positioning and integrated calibration device
Full system integration for high performance
Dedicated, easy-to-use workflows minimize user action and guarantee reliable data ? independent of the operator and experience level.
Step-by-step guidance to improve productivity and reduce inspection and process time
User right management to restrict functionality and avoid avoids operator handling errors by restricting functionality
Touch screen support for efficient operator handling
Compliant One-Click Reporting for direct documentation
Data Management by automated results storing and sharing options
The unique all-in-one-scan solution enables scans to be completed twice as fast as other inspection systems. Counted and sorted particles are displayed live while powerful, easy-to-use tools make it easy to revise inspection data.
Overview image for direct identification of filter coverage, particle clustering or worst particles
Automatic live processing and classification of contaminant particles ranging from 2.5 µm up to 42 mm
High Throughput by unique all-in-one-scan technology for detection of both reflective and non-reflective objects in one scan
Live analytics and result display for shortest reaction time
Compliant results by support of international standards
Powerful and easy-to-use tools support to revise inspection data. Highest flexibility is guaranteed by support of all international standards. Clear representation of all relevant inspection results in a maximum time saving.
Clear arrangement of images and data for efficient data review
Visualization of different particle views for immediate identification
Proven guarantee as particle location and thumbnails linked with their dimensional images
Easy reclassification, review revision and recalculation of inspection data
Short reaction time by live display of overall cleanliness code, particle and classification tables
Full control by displaying complete inspection data set in one view
One-click reporting meets the requirements and methodologies set forth in international standards.
Completely intuitive and professional documentation based on compliant templates
Smart variability by customer adaptable templates
Utmost flexibility by support of various output formats
Efficient and time-optimized exchange by direct file sharing options
Sophisticated data storage options for long-term justification of results