HDPE Bollard Covers
Product Announcement from Omega Industrial Products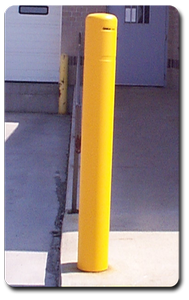 Omega Industrial Products - Bollard Covers


Bollard Covers are made from High Density Polyethylene (HDPE)
Cleans up those rusting Pipe Bollards and enhances the look of your facility
Solid Color all the way through won't show scratches or corrosion.
Ultra violet stabilizers to reduce fading
Available in sizes to fit 4" and 6" pipe
Domed top enhances the appearance
Reflective tape offers additional visibility
Installs quickly and requires no maintenance
Available in custom colors

Our top-quality products are used and trusted by the nation's leading companies, government agencies and institutions. Omega Bollards and Bollard Covers and Guards provide employers in public and private capacities across the board with a safer and more user-friendly workplace by supplying protection and minimizing the damage and drain on your bottom line.
Omega products are exactingly devised and engineered to surround your most valuable assets with real-world, proven protection. Our Bollards and Bollard Covers and Bollard Guards come in a wide range of options, depending on your application and aesthetic considerations. Available in custom colors and standard sizes to fit 4" and 6" pipe.
Whether you need a stock item or a custom design, Omega can address your unique situation with the best solution, with the responsiveness and dependability you need. Omega Bollard Covers are made from High Density Polyethylene (HDPE), solid color through-and-through to pre-empt scratches or corrosion, with fade-resistant Ultra violet stabilizers. No maintenance is required. Installation is quick and easy.
Here's a great way to clean up those rusting Pipe Bollards, to instantly enhance and upgrade the appearance of your grounds and facility, immediately taking away that vulnerable, "run-down" look. Built-in refinements like domed tops and reflective tape for added visibility prove that protection does not have to be unsightly. Bollard Guards and Pipe Bollards are available in both Surface Mount & Core Mount styles.
---