Cable Harnessing - Custom Designed to Fit
Service Detail from Omnetics Connector Corporation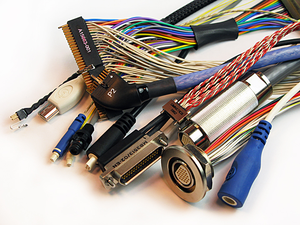 For years, Omnetics has been known for their high quality singleended Micro and Nano-miniature connector solutions. Unfortunately, too often being lost in translation is the fact that Omnetics also harnesses strong capabilities as they relates to manufacturing standard and custom cable assemblies. Whether your current design calls out a number of Omnetics connectors, or just one; Omnetics has got you covered.
Omnetics Micro and Nano contacts by design require precision crimps done on automated crimpers. And with there being no hand crimp tools currently available, for reliability sake, it's always wise to choose Omnetics' manufacturing team over the rest. Omnetics has over 30 years of experience working with miniature connectors and contacts of all kinds, and can provide you with the reliability you need, without jeopardizing the quality you expect.
Omnetics very own "Flex-pin" contacts are permanently installed and encapsulated in the insulators with epoxy. Meanwhile, Omnetics manufacturing team can terminate many wires and cable types, while maintaining the design characteristics you are in search of. Custom cable harnesses outfitted with back shells, EMI shielding, custom overmolding, as well as flex terminations are all available upon request. In fact, even if the cable concept you've designed doesn't involve all Omnetics components, Omnetics can still assist you within your request.
During this process, Omnetics will procure all the necessary components needed to fulfill your requirements, while providing you (the designer) as well as your purchasing team with a single orderable part number as well as a detailed engineering print to review. Some of the advantages within this approach help alleviate headaches often associated within the documentation process as well as managing multiple part numbers from multiple vendors.
Since their inception, Omnetics Connector Corporation has taken great pride in offering their customers the solution they need. The solution in question, may not always be the easiest to build, nor the cheapest to make, but rather the quality solution that fits your individual programs needs. If your application requires you to terminate your own wires, Omnetics can also supply connectors with solder cups ready to accept your wire in question. Custom wire and cable, as well as other components too can be customer supplied as well, in an effort to better fit your production schedule. For more information go to: