We are THE nylon coating experts.
Service Detail from Omnikote Ltd.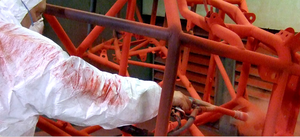 The Aerospace Industry demands specialist coatings, complicated masking techniques, resistance to aggressive environments and tight tolerances. Our prototype and specials department often develops coating solutions, examples being an elastomeric coating that enables a steel component to be ultrasonically welded to a high-tech fabric for an airbag and an impact resistant polyurethane rubber coating which is transparent to radar, for aircraft nose cones. We also apply Infra Red Reflective (IRR) coatings.
Much of our work in this area is coated in Nylon because of its inherent abrasion and impact resistance.
Automotive applications include chassis for off-road vehicles, our Nylon-LF (IMDS registered) coating that was developed specifically to solve the problem of squeaks and rattles from door latches, and wear resistant coatings on clutch release forks .
Although initially more expensive than polyester coatings, Nylon has superior wear, abrasion, and impact resistance. Any extra cost is recovered many times over by savings in maintenance and replacement costs. Coating with Nylon is a major part of our day to day business. We are an approved applicator of Rilsan, and have built up a considerable expertise with this product.
Key benefits of Nylon are:
Manufactured from renewable resources
Non toxic
Excellent wear characteristics
Good chemical resistance especially to solvents
Good corrosion resistance
Good thermal insulation, ideal for warm to touch applications
Flexibility at low temperatures
Smooth low friction surface
Certified colour formulations for all standard colours in our spectrophotometer or we can match accurately to any colour sample. RAL, BS, Pantone, NCS and Munsell charts available
We are the Nylon Coating experts
20 years using nylon powders give us unparalleled expertise. Nylon now accounts for 50% of our business so if you are looking for the durability and performance that only Nylon gives, save yourself time and effort, talk to us first.
With 40 years experience in the powder coating industry, Omnikote lead the way not just in powder coating but in specialist wet spray and fluidised bed dipping as well. For a job well done choose Omnikote.
Our employees average 18 years service giving unrivalled competence.
2 shift working to guarantee on-time deliveries.
5 separate plants offering the capability to efficiently coat practically any size and quantity.
Quality track record - One of the first UK coaters accredited to BS5750 (ISO 9001) and still getting better.
Small run/prototype service - Dedicated plant for this purpose.
Massive technical expertise
applications: