MEMS Flow Sensors
Product Announcement from Omron Electronic Components – Americas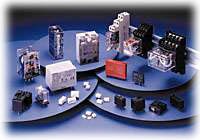 MEMS Flow Sensors from Omron Electronic Components LLC
The Omron family of MEMS (MicroElectroMechanical System) Flow Sensors includes intelligent compact models capable of measuring flow velocity and mass flow rate movement with highly repeatable accuracy. Mass Flow rates from 1 LPM to 50 LPM (Liters per Minute). High sensitivity is achieved with the MEMS Flow Chip.
The D6F-P, D6F-V, and D6F-W Sensors incorporate a Dust Segregation System (DSS) allowing them to be used to monitor the performance of fans , detect clogged filters in computers and projectors, and VAV control in commercial HVAC systems.
Small size, due to MEMS technology
Flow Sensors, can be used with most medical, inert welding, and combustion gasses
Excellent repeatability and accuracy

Click HERE to read our MEMS Flow Sensor Newsletter

Omron is the world's leading supplier of relays. We offer an exceptional variety and technologically advanced relays for virtually any relay requirement.
Our switches work hand in hand with our relays in consumer electronics, appliances, computer peripherals, office automation products and telecom applications. Choose from general and special purpose snap action, tactile key, miniature, sub-miniature, thumbwheel, and DIP.
Photomicrosensors offer an inexpensive alternative to electromechanical switches or photoelectric sensors. A wide choice of mounting types offer many design options. Because of their non-contact sensing ability, they last much longer than electromechanical switches.
---