MOS FET Relays
Product Announcement from Omron Electronic Components – Americas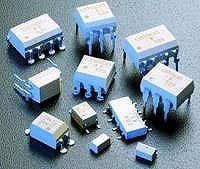 MOS FET Relays from Omron Electronic Components LLC
Perfectly suited for Automated Test Equipment, Medical Equipment, Instrumentation, Security Equipment, Automated Meter Reading, Automotive Diagnostic Equipment, and Communications.
Available in 1 and 2-Pole configurations in PCB, SMT, DIP, SOP, and SSOP packaging. Other options include current limiting, high dielectric voltage withstand, normally open and normally closed contact forms, high voltage and current load handling, and high-speed switching.
Solid-State performance and accuracy
Smallest SSOP footprint in the industry (SSOP Models)
Low ON-resistance (as low as 100mOhms)
Low OFF-state capacitance (as low as 1pF)
Low 3-5mA trigger current
High-speed switching
100,000 hours of continuous operation
Dielectric Strength of 10,000VAC for 1 second on some models

Omron Electronic Components
Omron is the world's leading supplier of relays. We offer an exceptional variety and technologically advanced relays for virtually any relay requirement.
Our switches work hand in hand with our relays in consumer electronics, appliances, computer peripherals, office automation products and telecom applications. Choose from general and special purpose snap action, tactile key, miniature, sub-miniature, thumbwheel, and DIP.
Photomicrosensors offer an inexpensive alternative to electromechanical switches or photoelectric sensors. A wide choice of mounting types offer many design options. Because of their non-contact sensing ability, they last much longer than electromechanical switches.
---