New Blood Pressure Sensor Utilizes 8" MEMS Wafer
Product Announcement from Omron Electronic Components – Americas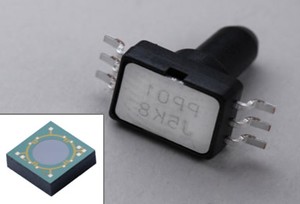 New Omron Blood Pressure Sensor Utilizes 8" MEMS Wafer Technology
By: Donna Sandfox, MEMS Product Manager, Omron Electronic Components LLC
Schaumburg, IL – Omron is a world leader in the Blood Pressure Monitor market. In September of 2009, they surpassed the 100 Million unit mark in sales of their home-use monitors. Contributing to this success is the use of Omron's MEMS Pressure Sensors.
In 1996, Omron released its first MEMS Capacitive-type Pressure Sensor, made on a 4" MEMS wafers. With a reduced MEMS element size (2.2 x 1.7 x 0.8 mm), their 2001 capacitive model progressively made use of 5" wafer technology.
Employing MEMS dry etching technology and CMOS process integration, Omron began manufacturing a new Piezo Resistive type of Pressure Sensor utilizing state-of-the-art 8"/0.35 mm wafer production in September of 2009. This sensor features a significant reduction in the MEMS chip size (1.3 x 1.3 x 0.4 mm), though the package size was maintained at 9.85 x 4.75 x 8.25 mm to facilitate an easy transition between the two models.
The new Piezo Type MEMS Pressure Sensor offers reduced offset voltage and span dispersions of ±4.0 mV and 3.1 mV, respectively, making trimming unnecessary. A lower power consumption of 0.2mW provides energy savings, and the new model boasts better temperature characteristics. The specifications also include a non-linearity of <0.8% F.S. and a Hysteresis of ±5% F.S. at 0 to 280 mmHg.
With the larger wafer and reduced chip size, Omron is able to produce about 5 times more pressure sensor dies per wafer than the previous model, resulting in excess manufacturing capacity. To fully maximize usage of the extra capacity, Omron Electronic Components LLC plans to release their new piezo resistive pressure sensor for external sales in North and South America beginning in early 2010.
In addition to blood pressure measurement, potential applications include leak detection, pressure indicators, industrial controls, environmental controls and home appliances such as vacuums.
Looking forward, Omron is actively developing a "Piezo Monolithic" type of pressure sensor that will integrate the signal amplification onto the MEMS chip, simplifying the customer's integration process.
Additional Press Information Contact:
Cami Marsh
847-755-7814
Email: cami.marsh@omron.com
###
---