Tiny Omron Piezo Resistive MEMS Pressure Sensor
Product Announcement from Omron Electronic Components – Americas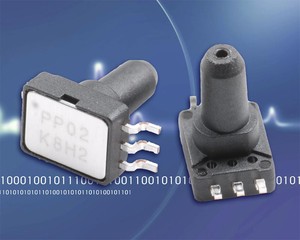 Omron is quite pleased to announce the release of a new MEMS Pressure Sensor, from the Omron Micro Device Division. Part number 2SMPP-02 is a piezoresistive type gauge pressure sensor with a rated pressure range of 0-37 kPa (0-280 mmHg). The product has also tested very well under negative (vacuum) pressure.
Key Features and Benefits
Very small package size: 6.1 × 4.7 × 8.2 mm (L × W × H)
Tight calibration - low variation in the zero and offset voltages
Low temperature influence
Low power consumption of 0.2 mW
Mounted on and thru the backside of the PCB, providing additional rigidity and stability to the surface mounted part
Target Applications
Medical: Positive and negative pressure applications. Economical enough for disposable applications.
Appliance/Laboratory Equipment Level Indication: Product may be used to measure liquid levels in a container by inserting a tube into the vessel and connecting it to a sensor located above the maximum water height. As the water rises and falls, so will the air pressure in the tube.
Others: Leak Detection / Pressure Controller / Air Movement Control
The 2SMPP-02 is currently in production. The sensor has a List Price of $3.50 and is available through authorized distributors. Complete technical details are available by contacting Omron Electronic Components at 847-882-2288, or downloading the 2SMPP datasheet from the Omron website.
---