Network Infrastructure and Security Services
Service Detail from OneTech Group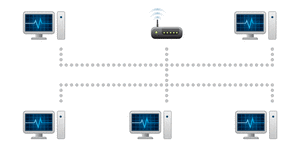 Our network and security infrastructure offer provides a concrete answer to companies wishing to align their information system with the challenges they face so as to meet the challenges imposed by the market.
One TECH Business Solutions assists you in designing, using and maintaining this infrastructure secure, efficient, reliable and scalable.
Thanks to our expertise and partnerships with Information and Communication Technologies leaders, we offer the right and secure solutions: LAN, WAN, WLAN.
Videoconferencing allows communication between staff located in geographically distant places. Collaborate and work together becomes a reality and players can work together « from distance » through computer screens or at conferences in the meeting rooms.
Solutions for Datacenter
OneTech Business Solutions offers its expertise and methodology to assist you in implementing your Datacenter project :
Networking : Chassis at the heart of the network, Switch top of the rack, switch blade
Network applications : load balancing, SSL of load , Security
Storage arrays, FC switches
rack, blade servers
Server Virtualization, Automation
Cloud computing management solutions
Systems : Microsoft environment, Linus
Facilities : access control, fire detection, cooling, UPS, power, raised floor and ceiling
Storage Solutions
Because hardware is replaceable while data are not, ensuring your data storage is vital and unavoidable.
Because the loss of stored data, files or important applications may have dramatic consequences on your businessdata backup solutions are also essential.
We offer a wide range of storage solutions resulting from our partnership with HP, a leading global technology :
Systems and Virtualization Solutions, Messaging
Until recently, the architecture of information systems involved achieving a single operating system eand only one application per server. Most of the material resources sare largely underutilized and administrators spend too much time to manage all servers.
With the advent of virtualization, the IT scene has come into a new era. Virtualization not only allows reducing overall IT costs but also increasing the efficiency and availability of resources and applications. We can assist you in defining or optimizing your infrastructure: systems, virtualization of servers and posts, and the implementation of your email.