Managed File Transfer Brochure
Product Announcement from OpenText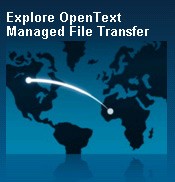 Does the term "guaranteed delivery" conjure up visions of your local courier? Today, FedEx® has become a common fall-back plan todeliver large digital files to their ultimate destination by next day. As the creation of digital content expands and the sizes of thosefiles increase, business workers are facing new dilemmas when itcomes to exchanging and collaborating on large digital content. With compliance policies, corporate email limitations, auditor scrutiny, thehigh cost of bandwidth - file exchange can't wait for the mail.
If next day delivery doesn't cut it, OpenText Managed File Transferis your digital express courier for file delivery-but instead of daysor hours, try seconds…
From days to seconds-OpenText Managed File Transfer is anenterprise solution for managing the exchange of large files insideand outside your organization. When sending an email, large fileattachments are accelerated for high speed delivery. Combinedwith air-tight security and complete audit tracking, OpenTextManaged File Transfer enables organizations to reduce large fileexchange from days to seconds to increase productivity, improveagility, and ensure compliance for lowered corporate risk.
Benefits of OpenText Managed File Transfer:
Transfer files up to 30x times faster than FTP
Ensure policy-driven and transparent file delivery
Reduce the risk of sharing unsecured content between users
Boost team collaboration through fast and secure content sharing around the globe
Automate hours and days of inefficiency sending files on hard drives, FedEx, and complicated FTP
Integrate seamlessly into users' everyday work experience and tools such as Microsoft® Outlook®
Empower users to exchange large and small files inside and outside their organization without IT intervention
Manage the movement of critical content centrally with complete traceability and protection of file transfer operations.
---