Cell Growth/Biomass: NIR Fermenter Control Monitor
Product Announcement from optek-Danulat, Inc.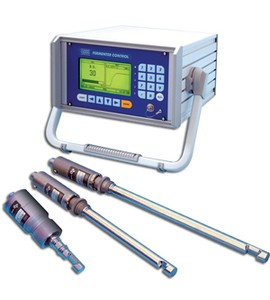 The FERMENTER CONTROL photometric converter is specifically designed to integrate easily into existing bioreactors and fermentors. Using input from one or two optek ASD-series photometric probes, the Fermenter Control precisely measures cell growth/biomass as a function of Near Infrared (NIR) absorption. The results are displayed in any laboratory unit, such as OD, AU, Cell Count or Cell/ml. Noise-rejection signal processing feature provides stability and measurement reliability even in systems with a high degree of aeration and agitation.
The intergrated, four-channel Datalogger stores measurement results in user-selectable time intervals. Actual results and the trend can be displayed simultaneously. Set-points, tables and parameters can be stored and even changed by remote I/O. The data can also be transferred to a PC for further analysis.
Three independent set points as well as one or two mA-outputs (4-20 mA) and one or two voltage outputs (0-10 V) are available for alarm and monitoring. An additional relay output (FAIL-SAFE) is built in for remote sensing of lamp or power failure.
Other features include a 240 x 128 pixel display, three-level password protection and multiple languages. The Fermenter Control is panel-mountable, and is optionally available in a benchtop case for laboratory-scale applications and for portability. A 115/230 VAC or 24 V AC/DC power supply is available.
Fermenter Control Features:
Internal multi-channel Datalogger
High-resolution outputs: 4-20mA and 0-10V
Individualized scaling and linearization for different cell cultures
Damping functions compensate for external effects and disturbances
Noise rejection signal processing circuitry
Multiplex two sensors to one converter
---