Color & Concentration: VIS Single-Channel Probe
Product Announcement from optek-Danulat, Inc.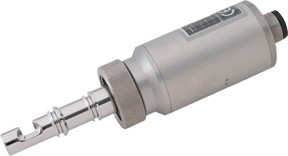 The model AS56-F is a high-precision, single channel absorption probe. The stainless steel probe, equipped with an Ingold-style port, is designed for use in vessels or inline applications.
The sensor uses the light in the visible (VIS) range at a selected wave length of 430 nm. A precisely defined, constant light beam penetrates the process medium. The attenuation of the light intensity, caused by absorption and/or scattering by dissolved and undissolved substances, is detected by a hermetically-sealed photo diode

An optical filter on the lamp side adapts the wave length for specific applications and allows color measurements at 430 nm with great accuracy (e.g. phase separation beer / water).
The seal-less, sapphire window design eliminates crevices and gaps to assure the highest level of sterility, cleanability and sensor integrity. The single crystal sapphire optical window provides superior resistance to all abrasive and corrosive media. The probe body demonstrates extreme durability and fulfills the CIP/SIP requirements demanded by ultra-sanitary process environments.
AS56-F Features:
Inline real time process monitoring
Superior sapphire window with no seals, gaps or crevices
Extremely low maintenance
CIP/SIP-compatible
All wetted material and surface finishes are certifiable and traceable
---