Filter Monitor
Product Announcement from optek-Danulat, Inc.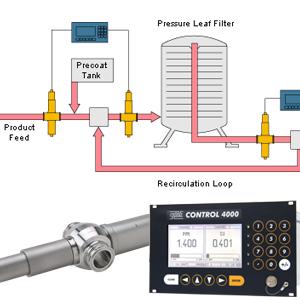 optek filter monitors precisely detect very low concentrations of suspended solids (0 - 0.5 to 0 - 500 PPM) as well as colloidal haze (1 -100 NTU/ FTU) to ensure utmost purity. By installing a filter monitor at the start of the filtration process and between each filtering step, the flow can be stopped, recirculated or switched to an alternate filter if product turbidity or color reaches an unacceptable level. In addition quality is measured in real-time to release product by instrument.
Filtration Monitoring and Control Benefits
Extended Filter Runs
Reduced Precoating Time
Optimized Use of Filter Aids
Consistent Product Quality
Immediate Break / Upset Detection
Reduced Down Cycles
Increase Filtration Capacity
Reduced Product Losses
Optimized Processes
For more information view our new Top 5 Chemical Applications brochure.
---