UV Absorption & Concentration: Dual-Channel Sensor
Product Announcement from optek-Danulat, Inc.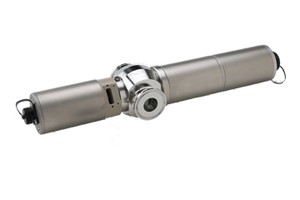 The model AF46 is an advanced, dual channel Ultraviolet (UV) absorption sensor with two additional lamp reference compensation channels. This sensor is designed for inline operation and provides accurate measurements with great repeatability, linearity and resolution. The AF46 is used for HPLC control, detection of aromatic compounds, organic load, protein concentration and other demanding applications.

The AF46 uses light in the UV range with selected wavelength combinations. Precisely defined, constant light beams penetrate the process medium. The attenuation of the light intensity, caused by absorption and/or scattering by dissolved and undissolved substances, is detected by photo diodes.

The dual channel measurement compensates for background influences at the specificed wave lengths. Two additional photo diodes compensate for any variations in lamp intensity for the highest level of precision and long-term performance.

The single crystal sapphire optical window provides superior resistance to all abrasive and corrosive media. NIST-traceable validation accessories provide absolute measurement confidence. The AF46 is available with a broad variety of line sizes, process connections and wetted materials and can be easily adapted to the process.
AF46 Features:
Inline real time process monitoring
Dual channel background compensation
Extremely low maintenance
Compensates lamp ageing or intensity fluctuations by reference channels
Designed for CIP/SIP and ultra-sanitary applications
Broad variety of line sizes, process connections and wetted materials
---