UV - VIS - NIR Process Control Monitor
Product Announcement from optek-Danulat, Inc.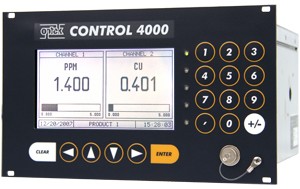 The simple, menu-based software is easy to use and configure. C4000 software features include adjustable signal damping, 16 linearization and calibration tables, and advanced calculation capabilities. Remote process control functions include product switching, ranging, remote zero and hold.
The configurable graphic display can show absorbance, transmittance and concentration in real time, and in any unit of measure such as CU, ppm, EBC, FTU, and g/l.
The C4000 can display readings as text, bar graphs or trend values. It also shows alarm set points and many other unique system functions.
The C4000 integrated Datalogger can capture vital process information for quality assurance and plant control records. The data is easily transferred to a PC via an RS-232 port.
The C4000 provides multiple analog and relay outputs for direct measurement and control. Many versions accept analog and discrete inputs from other process control instruments. Some models are capable of multiplexing up to four optek inline sensors and/or probes.
The Control 4000 series converters are now available with an optional PROFIBUS® PA interface, which fulfills the Application Profile for Process Automation Version 3.01with amendment 2.
C4000 Features:
Real time photometric converter
Process control functions via remote or PROFIBUS® PA
Multiplex up to four inline sensors
Simple menu-based software
Readings in CU, ppm, EBC, FTU, g/l, or any user-defined unit
Integrated datalogger for quality control
Analog and discreet I/O for direct process monitoring and control
Alarm signals for system failures
Interface to all optek sensors
---