Migrating to Newer Opto 22 Products
Product Announcement from Opto 22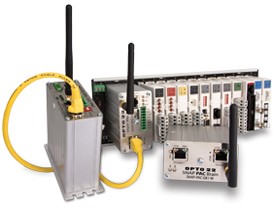 If you're wanting more, take a look at migrating to the SNAP PAC System.
Gain memory, density, speed, and network flexibility.
Maintain your investment in I/O, sensors and actuators, and field wiring.
The SNAP PAC System is your goal. Developed in 2007, it's an integrated system of hardware and software that makes your job easier.
The SNAP PAC System's PAC Project Professional Software Suite, SNAP PAC programmable automation controllers, and SNAP I/O offer all of this:
Control programming, HMI development and runtime, OPC communication, and two-way database connectivity
Powerful, compact Ethernet-based standalone and rack-mounted controllers
Two Ethernet network interfaces on PACs and brains
Ethernet and serial I/O units in the same system under one controller
High-density I/O packaging with up to 512 I/O points on one rack
One brain processing analog, digital, and serial I/O on the same rack, in any position
Distributed intelligence including PID loop control at the I/O level
Native communication with Allen-Bradley Logix systems and Modbus/TCP systems
MicroSD card slots for up to 2 GB removable data storage
Optional wireless 802.11a, b, and g communication with WPA2/AES security
Learn more about the SNAP PAC System.
---