SNAP Mechanical Power Relay Output Modules
Product Announcement from Opto 22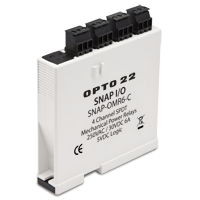 Announcing two new SNAP mechanical power relay output modules that can switch loads up to 6 amps at 250 VAC or 30 VDC.
SNAP-OMR6-C is SPDT (Form C): Each of the four mechanical contacts can be used as normally open or normally closed.
SNAP-OMR6-A is SPST (Form A): All four mechanical contacts are normally open.
Features:
Four channels per module, each switching AC or DC power
Channel-to-channel isolation and optical isolation
Each channel can carry 6 amps
Each channel presents a true open circuit when off
Mount the new mechanical power relay modules on a SNAP PAC rack alongside other analog, digital, and serial I/O modules. Use a SNAP PAC brain or rack-mounted controller for communications and I/O processing.
Or use these modules with legacy SNAP brains-SNAP Ultimate, SNAP Ethernet, SNAP Simple, B3000, B3000-B-and B-series or M-series racks.
---