PI Connect IR Analysis Software
Featured Product from Optris Infrared Sensing, LLC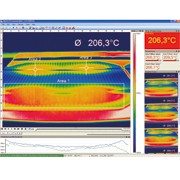 The IR analysis software optris PI Connect sets benchmarks within the thermography branch by offering its users extensive recording and real-time analysis options. In addition, moving measuring objects can be monitored via line scan function.
A real-time data transfer to external software programms, including radiometric video sequences and snap shots, text files for the analysis in Excel as well as files containing color information for standard programs such as Adobe Photoshop or the Windows Media Player, is supported by the software PI connect.
Furthermore, several functions for automatic process and quality control procedures, such as the individual setup of process related alarm levels, are supported by the thermografic software, enabling you to immediately react to temperature fluctuations and thus, optimize your processes.
The PI connect software is compatible with all netbooks, notebooks and computer systems using Windows XP, Vista, Windows 7, 8 and 10.
Advantages of the thermographic software optris PI Connect
No additional costs

No restrictions in licencing

Modern software with intuitive user interface

Remote control of camera via software

Display of multiple images in different windows

Compatible with Windows XP, Vista, Windows 7, 8, 10 and Linux (ubuntu)
SDK includes interfaces for LabVIEW and MATLAB

Analysis and documentation of temperature data

Triggered data collection

Radiometric video sequences (*.ravi)
Radiometric snap shots (*.tiff)
Text files including complete temperature information for analysis in Excel (*.csv, *.dat)
Data wit color information for standard programs such as Photoshop or Windows Media Player (*.avi, *.tiff)
Data transfer in real time to other software programs via DLL or Comport interfaces

Automatic process and quality control

Individual setup of alarm levels depending on the process

BI-SPECTRAL process monitoring (IR and VIS) for easy orientation at point of measurement

Definition of visual or acoustiv alarms and analog data output via the process interface

Analog and digital signal input (process parameter)

External communication of software via reference values

Corrections of thermal image using referencial values
High level of individualization for the customer

Different layout options for an individual setup (arrangement of windows, toolbar)
Temperature display in °C or °F
Various language options including a translation tool
Range of individual measurement parameters appropriate for each application
Adaption of thermal image (mirror, rotate)
Individual start optrions (full screen, hidden, etc.)
Video recording and snap shot function (IR or BI-SPECTRAL)
Recording of video sequences and detailled frames for further analysis or documentation
BI-SPECTRAL video analysis (IR and VIS) in order to highlight critical temperatures
Adjustments of recording frequency to reduce data volume
Display of snap shot history for immediate analysis
Extensive online and offline data analysis

Real-time temperature information within main window as digital of graphic display
Analysis supported by measurement fields, automatic hot and cold spot detection
Logic operation of temperature information (measurement fields and image substraction)
Slow motion repeat of radiometric files and analysis without camera being connected
Editing of sequences such as cutting and saving of individual images
Various color palettes to highlight thermal contrasts