24 VDC Input CVK Stepper Motor and Driver Packages
Featured Product from Oriental Motor USA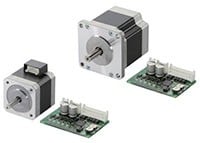 The CVK Series offers customers a common driver platform and wiring from which to choose the desired performance, allowing for improved machine performance while saving space and reducing costs.
The new CVK Series replaces our CMK and CRK round shaft open frame packages and features 2 motor types with 3 basic step angles. Choose from 1.8°, 0.72° or a 0.36° step angle, each with specific performance advantages. While the driver is matched to the motor type with maximum current setting flexibility, the driver size, mounting and wiring are common, allowing for easy testing and standardization. The 1.8° motor type offers the highest torque in the low-speed range. The 0.72° motor type is designed to maximize the mid to upper-speed range and the 0.36° provides superior positional accuracy compared to 1.8° and 0.9° stepper motors.
With the fully digital, standard full-time microstepping driver, the lowest vibration is achieved throughout the entire speed ranges for all motors; especially low to mid ranges which are typical noise and vibration problem areas for stepper motors.
The new CVK Series is available in five frame sizes: 20 mm (0.79 in.) to 56.4 / 60 mm (2.36 in.). For customers requiring a driver only, the CVD driver is also available with its wide range of adjustable current settings.
The CVK Series' key features are:
50% more torque in the lower speed range for 1.8° motors
85% more torque in the mid and upper speed range for 0.72° / 0.36° motors
Superior Positional Accuracy with the 0.36° motors
Low vibration due to fully digital microstepping driver
ABOUT ORIENTAL MOTOR
Since its founding in Japan in 1885, Oriental Motor has been a world leader in motion systems. For over a century we have concentrated on technological advancement and product design improvement - an emphasis evident in the sophisticated devices we market today. Oriental Motor's sales and service network is international, with offices throughout North America, Europe and Asia. Domestically, ORIENTAL MOTOR U.S.A. CORP. was established in 1978.
For more information:
Technical Support, 800-468-3982, techsupport@orientalmotor.com

Play 24 VDC Input CVK Stepper Motor and Driver Packages Video