FC Type "Face Gear" Available For AR, RKII Series
Featured Product from Oriental Motor USA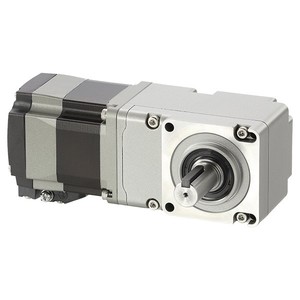 Oriental Motor is pleased to expand the new right angle FC "Face Gear" to the AlphaStep AR Series (AC Input) and RKII Series stepper motors.
The new gearhead features a right-angle FC Type, commonly referred to as a "Face Gear." The name FC Face Gear derives from the motor pinion and face gear. It is a compact orthogonal shaft geared motor comprised of a disc-shaped gear (face gear) meshing with a spur gear.
The FC Face Gear Type right-angle gearhead's slim size is ideal for compact and space saving applications, where high precision and high strengths are required. It is available with two cable orientation, in a 42 mm or 60 mm mounting face and in AC input only driver control. Optional electromagnetic brake type is also available.
The AlphaStep AR Series stepper motors offer high efficiency, low vibration, and continuous operation with the security of closed loop performance without hunting or gain tuning. Available with a built-in controller or pulse input driver, the system substantially reduces heat generation from the stepper motor through the use of high-efficiency technology. The RKII Series 5-phase AC input stepper motors are designed to provide high performance and energy savings.
To learn more about Oriental Motor's stepper motor family of products, contact the Technical Support group at 800-468-3982 or email, techsupport@orientalmotor.com, or visit the web page at:
https://www.orientalmotor.com/stepper-motors/stepper-motor-only.html