High Performance Induction AC Gear Motors
Featured Product from Oriental Motor USA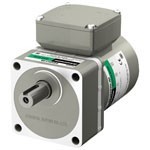 Oriental Motor, which has set the standard for AC motors, listened and has sought out the next generation in AC motors with the KIIS Series Three-Phase and KII Series Single-Phase AC motors.
The Three-Phase KIIS Series offers an optimally designed, high efficiency next generation Three-Phase motor that incorporates higher strength gears, both Parallel Shaft type and new Hypoid Right Angles type that maximizes the motor performance. The KIIS Series is available from 60 W (1/12 HP) up to 100 W (1/8 HP) with either Imperial or Metric standard output shafts.
The KII Series also offers the high strength Parallel Shaft type gears that maximize motor performance with simple wiring and flexible mounting options. The KII Series is available from 6 W (1/125 HP) up to 90 W (1/8 HP) with either Imperial or Metric standard output shafts.
High Efficiency at a Maximum of 73%
Specialized components and optimal magnetic design are used to make high efficiency three-phase motors with a maximum efficiency of 73%. Motors are fanless, with increased motor output and significant loss reduction.
High Performance
Characteristics have been improved through pursuit of the specifications required for the three-phase motor and a review of the design to create a high-performance motor with little speed reduction even with a large load.