NEW Rack and Pinion LJ Linear Heads
Featured Product from Oriental Motor USA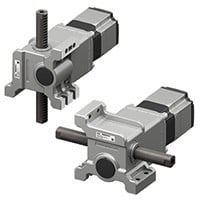 Oriental Motor USA is pleased to announce the release of the new LJ Linear Heads for the Rack and Pinion system. The LJ Series is a new linear head with a maximum transportation weight of 200 kg. By attaching it to the parallel shaft gearhead and motor, linear motion such as pushing, pulling, lifting, and lowering, is possible. Perfect for high load and long stroke applications.
Use with αSTEP AZ Series stepper motors with mechanical absolute encoder for high positioning accuracy or KIIS Series three-phase AC electromagnetic gear motors for simple continuous operation.
The key features of the new Rack and Pinion with LJ Linear Heads include:
200 kg maximum transportable mass
700 mm maximum stroke length
Compared to a self-built rack and pinion mechanism, the number of parts is reduced, and the amount of labor for design and assembly can be reduced
Easy assembly with a Parallel Shaft Gearhead
Rack can be installed in horizontal or vertical orientations
Combined motors: K2S with electromagnetic brake Parallel Shaft Gearhead or AZ Series TS Geared type
To learn more about Oriental Motor's Rack and Pinion system line-up with LJ Linear Heads, contact the Technical Support group at 800-468-3982 or email, techsupport@orientalmotor.com, or visit the web page at:
###
ABOUT ORIENTAL MOTOR
Since its founding in Japan in 1885, Oriental Motor has been a world leader in motion control systems. For over a century, we have concentrated on technological advancement and product design improvement — an emphasis evident in the sophisticated devices we market today.
Connect with Oriental Motor: Facebook, LinkedIn, Twitter and YouTube