New RKII Series Stepper Motor and Driver Packages
Featured Product from Oriental Motor USA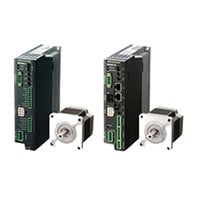 The New RKII Series is an ideal and affordable solution for demanding requirements and is available with a built-in controller (stored data) type driver or pulse input type driver, for the same price. The RKII Series utilizes our new motor technology, reducing heat output with the motor, allowing it to run up to 104°F (40° C) cooler than the conventional stepper motors. This offers significant benefits, including 100% torque utilization with no compromise. Designed with the step angle selector, switching from 1.8° or 0.9° packages is as simple as setting the dial. For greater torque requirements, 3 new and improved geared motors are available from our spur (TS) gear, our planetary (PS) gear to our harmonic (HS) gear. All feature improved performance and lower pricing.
The new RKII Series products are available in 42 mm (1.65 in.), 60 mm (2.36 in.), 85 mm (3.35 in.) and 90 mm (3.54 in.) for geared type. Electromagnetic brake type and encoder models (built-in controller types only) are also available.
The RKII Series' key features are:
Easy to wire with motor connectors and driver connectors
Low heat generation
Low vibration
Step angle can be set (pulse input type)
Energy efficient
Spur, Planetary or Harmonic gearheads available
ABOUT ORIENTAL MOTOR
Since its founding in Japan in 1885, Oriental Motor has been a world leader in motion systems. For over a century we have concentrated on technological advancement and product design improvement - an emphasis evident in the sophisticated devices we market today. Oriental Motor's sales and service network is international, with offices throughout North America, Europe and Asia. Domestically, ORIENTAL MOTOR U.S.A. CORP. was established in 1978.
For more information:
Technical Support, 800-468-3982, techsupport@orientalmotor.com

Play New RKII Series Stepper Motor and Driver Packages Video