Metal Fabricating for Composite Parts
Service Detail from Osborne Industries, Inc.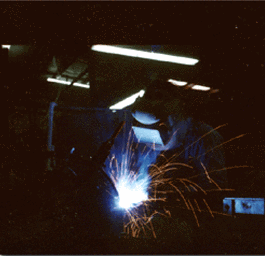 Osborne Industries is an OEM supplier of thermoset plastic parts utilizing Reaction Injection Molding (RIM) and Resin Transfer Molding (RTM) processes. To support its plastic composite molding, Osborne Industries has a large metal fabrication department that can perform secondary operations. The metal fabrication department contains a large variety of presses with the capability to bend, punch and shear all types of metal. Osborne Industries also has large metal saws, numerous welding stations and other metal working equipment to perform almost any required metal function.
One example where Osborne Industries utilizes its metal fabrication is on a composite part installed on military vehicles. The part protects the underneath side of the vehicle from damage due to landmines. Osborne molds a composite part in its RTM area and machines it on a CNC router to strict military specifications. The metal fabrication department cuts expanded metal (which is then powder-coated) that is bonded to the composite part and shipped ready for installation. By having a fully-equipped metal-fabrication department, Osborne Industries is able to assemble parts that would normally take two suppliers. In addition to the convenience, parts are shipped just-in-time which helps OEMs control inventory costs.
Osborne Industries is a 100% employee-owned company, so every employee has a vested interest in the success of your project. With Osborne on your team, you gain technical expertise, engineering assistance, and the skills of dedicated craftsman with over 25 years of practical day-to-day production experience. They have the manufacturing expertise with thermoset plastics and composites using RTM and RIM molding to take your project from concept to successful completion. If you are looking for an OEM composite part supplier, give Osborne Industries a call. Their experts will help you find innovative answers for your toughest plastics challenges.
---