Power Function Indicator Light
Featured Product from Osborne Industries, Inc.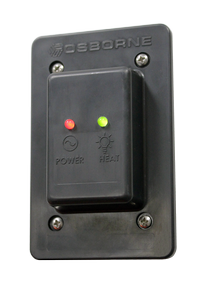 The Osborne Power Function Indicator Light provides visual confirmation that an electrical circuit is functioning and connected electronic devices are drawing power and operating properly. The patented system indicates proper operation of connected devices with varying voltages with consistent LED light brightness. Lights will not dim as output power varies in connected devices.
Applications include:
Heat tapes on pipes, gutters, and other surfaces like heated walkways
Engine block heaters for automobiles
Well pumps housed in pits or enclosures
Infrared or other types of heaters in enclosed buildings
Solar pumps on water heater systems
Coolant circulation systems
Aeration pumps in hatcheries or ponds
Voltage: 15-240 VAC Single Phase
Max Current: 20 Amps
Dimensions: 4.8 x 3 x 1.4 in.
Osborne Part No: FE-HPL001
Designed for hardwire installation by qualified electrician onto weatherproof, non-metallic, single-gang electrical enclosures. Contact Osborne for detailed specifications.