QCDS Award
Featured Product from Osborne Industries, Inc.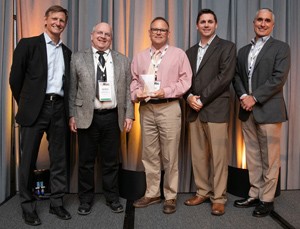 The highly regarded QCDS (Quality, Cost, Delivery, and Sustainability) Award is presented to only a select number of Altec's suppliers. Osborne's overall on-time delivery of 99.7% and exceptional quality score earned the company this year's award for its resin transfer molded composite components. Altec's Sustainability score is based on an assessment of characteristics, some of which include management and financial stability, supplier longevity, and a suppliers' cultural fit with the organization.

"Osborne's commitment to the success of Altec is evident in our excellent on-time delivery and very low number of quality issues," stated George Eakin, President and CEO at Osborne. "Even with the increased volume of RTM-molded platforms, we continue to exceed Altec's supplier performance." Eakin and Manufacturing Supervisor, Doran Schurr, accepted the QCDS Award on behalf of Osborne's employee owners.

Osborne's continuous drive to improve efficiency, quality, and delivery has earned the company recognition from Altec many times over the years. Osborne is a previous recipient of the Altec's Outstanding Supplier Award in 2011 and Consistency Award in 2015.