Video: Properties of RIM Thermosetting Plastics
Featured Product from Osborne Industries, Inc.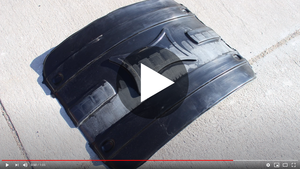 Reaction Injection Molded (RIM) components feature a combination of unique physical properties not found in thermoplastics or metal. Incredible impact and corrosion resistance makes RIM-molded thermosetting resins like polyurethane and polydicyclopentadiene (pDCPD) an excellent choice for original equipment manufacturer's (OEMs) whose equipment must withstand harsh conditions. RIM plastics excel in high temperature, highly corrosive, and extremely abrasive environments.
Parts and industries suitable for RIM composites include:
Industrial machinery
Service vehicle parts
Military, agricultural, and transportation equipment
Truck hoods and fenders
Under-hood parts exposed to high heat and abrasion
Parts for corrosion control (chlor-alkali) and wastewater treatment
Aerospace
Much more
Contact Osborne for more information on these incredible polymers and to request a sample today!